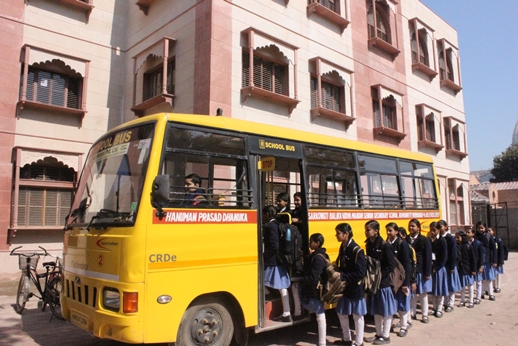 SCHOOL TRANSPORT
There are school vehicles available to help the students move to and from the school. The bus stops are also available from the followings place:

Mathura (Bus): Narsipuram, Motikunj, Mandi Chauraha, Duke Palace, Radha Puram, Chharaura, Bhuteshwar, Bus Stand, Chandrapuri, Sonkh adda, R.T.O., sadar, General Ganj, Holigate, Kotwali, Machali Fatak, Birla Mandir, Bangali colony, Highway Plaza, Dharmkanta, Vrindavan gate, Vatshallya Gram, Akroor, Gurraj nagar, Mayawati Hospital, Maholi Road.

Vrindavan (Bus): Tampo Stand, Chungi Chauraha, Rangaji Mandir, Gurukul Road, Bhakti Nagar, Attalla Chungi, Kailash nagar, Godhuli Puram, Chaitanya Bihar, Sunrakh.

Vrindavan (Van): Vidyapeeth Chauraha, Kishorepura, Shakkar Sindhi Dharamshala, C.F.C. Chauraha, Gurukul, Gaura Nagar, Tulsivan, Gopeshwar, Sheetala Mandir, Police Chowki, Sewa Kunj, Moti Jheel, Dawanal Kund, Barf factory ( Parikrama Marg), Sneha Bihari, manipada, Banke bihari, Radha Ballabh, Athkhamba, Choti Sabji Mandi, Vatala ashram, Rajpur, Chaar Sampradaya, Panighat.